For all media enquires please contact us at: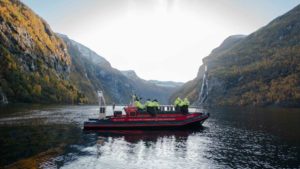 Press
Article in Sunnmørsposten about Evoy1 in Geiranger fjord. You can read more here. Here are some of the article in Norwegian: – Miljø er ein
Read More
News
Florøbaserte Evoy har fått stor oppmerksomhet for sin hurtiggående el-båt satsning og utforsker nå et samarbeid med Frydenbø Marine gjennom deres partnere i proffmarkedet. –
Read More
News
We in Evoy are so proud to have won the 100Pitches competition arranged by Norway's biggest bank – DNB. The prize was 300.000 NOK and
Read More
News
Evoy is excited to announce that we have been selected as one of the top 3 companies for the DRIV Prize 2019. With over 37
Read More
News
An important milestone! Evoy is pleased to announce that this week we have signed a letter of intent with Elin Tveit Sveen CEO of Marø Havbruk and E.
Read More